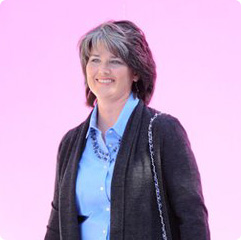 Amy Butler
On October 2008, at age 38, I found a lump up under my right arm. My doctor sent me for a mammogram and biopsy, and I was diagnosed within the week. When I received the call, I was in the Grace Evangelical parking lot, dropping my nine-year-old son off at basketball practice. I began to cry as I hung up the phone and my six-year-old daughter crawled in my lap and said, "Mommy, you probably have cancer, and you are gonna die or something." I began to laugh at her sweet face, and my battle began. I knew I had to fight with all I had, as God has blessed me with two wonderful children, and I was meant to be their MOM!
I had 13 lymph nodes removed in December 2008 and only had cancer in one. I began chemo in January 2009 until May 2009, with Herceptin continuing until December 2009. I lost all my hair, and my son had his head shaved with me! I had a double mastectomy with reconstructive surgery, by choice, in June 2009 and two subsequent surgeries within 17 days due to tissue loss and staph infection. Due to the staph infection, I had 30 days of IV antibiotics, twice a day for 30 days at two and a half hours each all last summer. I had a blood transfusion. However, through it all, I took my kids to school every day and picked them up every day because I wanted some sense of normalcy.
I was truly blessed; God picked me up and carried me through this tough time. I was very honest with my kids and made sure they understood what was going on to minimize their fears. My family and friends were amazing; as they prayed for me, brought meals, visited and sent words of encouragement. My doctors, Dr. Earle Weeks, Dr. Martin Fleming and Dr. Lou Adams and their staff are the most wonderful, caring and compassionate people around. They are super!
Stay positive! This helps you heal, and it makes others more comfortable, too. We were very blessed to have church, school, work friends and neighbors who were willing to help and visit. Make sure you are 100 percent confident in your medical team. All three of my doctors worked very well together and gave me such a sense of confidence and hope, I knew I would win! Talk to other breast cancer survivors; only the ones that have walked your path can understand your journey!