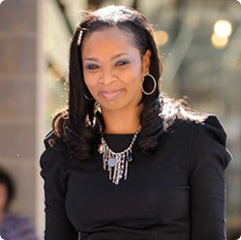 Dr. Tonya Anderson
My name is Dr. Tonya Lyons Anderson. I am the mother of an eight-year-old and a three-year-old (Kelli and Judah), co-pastor of a church, practicing dentist and have been a cancer survivor for more than two years. On April 6, 2009, my journey as a survivor began. I count my time as a survivor from the date I was diagnosed because from the first day I was told, I KNEW I would survive.
I listened as the doctor rattled off stages and letters (stage 2 IDC), in total disbelief. My spirit immediately rejected the diagnosis and I only saw myself as HEALED! My story is interesting because I am a health care provider and had gone to a provider for my annual exam and physical 17 days prior to finding the lump, and it was MISSED! Completing the monthly breast exam is vital. No one knows a woman's body like SHE does. We must follow that still, small voice that tells us when something is wrong. I found the lump in the shower and returned to the doctor with questions. The look on the doctor's face while re-examining me told me my suspicions were valid. I had breast cancer. Also, prior to discovering the lump, I decided to lose weight. This proved to be another reason the prognosis was more favorable. If I had not lost weight, it would have been harder to detect the lump. I was 60 pounds overweight prior to discovery.
I am grateful for hearing God's nudging to go back to the doctor and for being my own advocate when it came to my health. These two factors saved my life. I stood on scripture for my healing and faith for a positive outcome.
If I had to give a newly diagnosed person advice, it would be STOP, RELAX, BREATHE. Breast cancer is NOT a death sentence!! Cancer survival is 90 percent attitude and 10 percent physical. Your outcome depends on your attitude. Surviving is BEAUTIFUL.