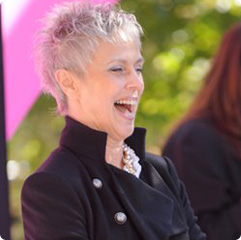 Janice Moss
Recently, I have had time to think about what has happened since March 23, 2010. As advised by my physicians, I have been faithful since 1972 to have a yearly diagnostic mammogram. After 37 years of "all clear," 2010 was different. The doctor said, "We need to biopsy this area in the left breast."
By March 25, my life began to change with the pathology report stating: Breast Cancer Triple Negative receptor with Grade 3 cell type, stage 1b. I had lumpectomy surgery on April 20, and my first chemotherapy May 10. I had port-a-cath surgery May 18.
Before surgery, the anesthesiologist requested an electrocardiogram and again my life had a new challenge–heart failure! Chemotherapy stopped until the heart issue was controlled.
All of the physicians caring for me quickly made arrangements to address the heart problem. An echocardiogram and echo stress test further verified that the heart muscle was weakening, the mitral valve was regurgitating and the heart rhythm needed cardiac resynchronization therapy.
On June 30, a pacemaker and defibrillator were implanted. Chemotherapy continued through mid-September, followed by a bi-lateral mastectomy and reconstruction in November 2010.
Most people will be surprised that I can truly thank God in all things, because what seemed to be a life challenge of a breast cancer diagnosis revealed an even greater problem of heart failure.
In closing, a word to those who have been diagnosed with either breast cancer or any other life threatening illness: Trust in God for He is the source of all healing, lean on the prayers of His people and listen to the medical professionals – for with God all things are possible and the medical professionals' hands are used to help care for breast cancer and any other illness as their specialty.
I personally have benefitted from the compassionate care, availability and willingness from the physicians, nurses, technicians, family and friends to assist in my care. Thanks be unto God and to all of them for all that they have done not only for me but also for many others who have needed their caring service.