Pat McRee with Lainey Turner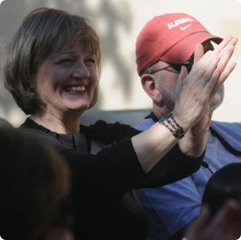 Pat McRee with Lainey Turner
I am an 18 and a half year breast cancer survivor. My story began in 1994 during Memphis' worst ice storm, when the Women's Health Center at Baptist graciously kept their doors open to care for me. Upon receiving the diagnosis, I had this immediate sense that God had something for me to learn that I couldn't learn any other way and that I would need to pass it on.
I had no idea that one of the women with whom I would share those lessons would be my own daughter, Amber Turner, who was diagnosed with breast cancer 14 years later. In the intervening years, Amber and I had worked together on the Flying Colors Cancer Network and collaborated on the first of two "Support to Go Unbooks," resource books for cancer survivors that include quotes, funny anecdotes, referrals to expert sources and more.
Directing Flying Colors, leading survivor laughter workshops and writing local survivors' stories for the Unbooks have been three of my passions, but wearing the "grandmother hat" has been my greatest blessing.
Pat will be accompanied by her granddaughter, Lainey Turner.
Words of Hope
"A merry heart does good like a medicine" because God said it is so.